Student Osteopathic Medical Association (SOMA)
Class of 2024 officers:
President: Hiba Hajissa
Vice President: Kevin Healey
Secretary: David Phrathep
Treasurer: Joseph Hoppes
National Liasion: Palak Petal
Faculty Advisor: Dr. David Boesler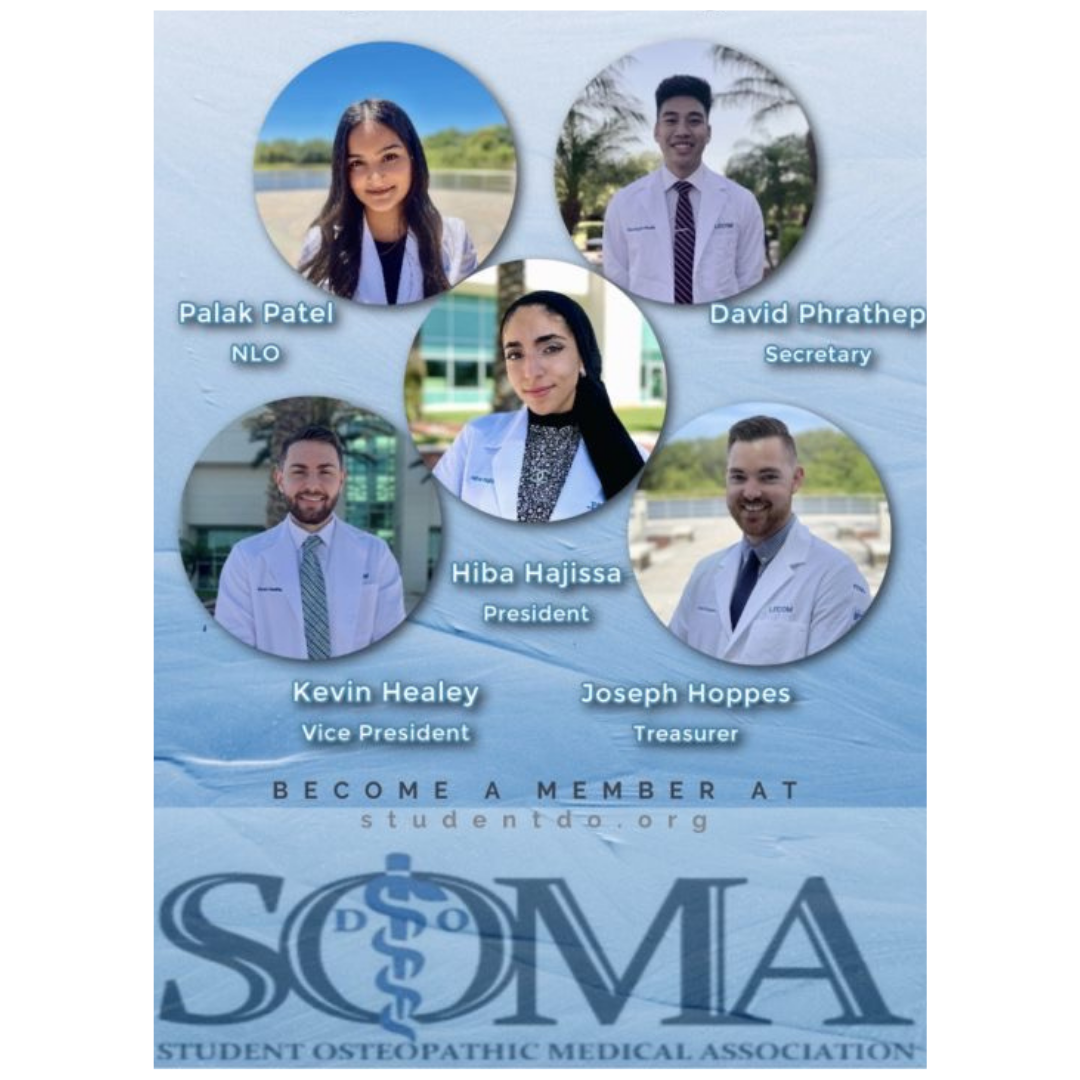 What is SOMA? The Student Osteopathic Medical Association (SOMA) is the nation's largest network of osteopathic medical students. The purpose of our organization is to foster collaborative relationships with the greater healthcare community, strive to advance both our medical education and preparation for leadership and advocacy roles, as well as maintaining a direct affiliation with the American Osteopathic Association (AOA). Why should you join?
LECOM Bradenton Leadership Opportunities

Executive Board

President
Vice President
National Liaison Officer (NLO)
Secretary
Treasurer

Dues are $80 and can be paid to Joseph Hoppes

 (Venmo: @lecombsoma)

Board of Directors

Research
Big/Little Sib Director
Public Health and Preventative Medicine
International Medicine
Professional Development
Political Affairs
National Leadership Opportunities

Board of Trustees
National Board of Directors
Medical Education and Networking

Summer Leadership Meeting (Chicago 2015)
Fall Convention (Orlando 2015)
Spring Convention and DO Day on the Hill (Washington DC)
Annual events: Big Sib Little Sib Match Up, Business Card Fundraiser, Flower Sale at White Coat Ceremony/Graduation, Medicine in Politics, DO Day on the Hill, and White Coat Sale (as well as many more speakers/events/volunteer opportunities!)
Scholarship Opportunities: AOF, SOMA Foundation, Omega Beta Iota, and more
If you would like more information on SOMA or any of the opportunities mentioned, please email the club president.