American Osteopathic Academy of Sports Medicine (Students Section, SAOASM) Formerly Orthopedic Surgery and Sports Medicine (OSSM)
This club is open to all students interested in Primary Care Sports Medicine as well as Orthopedic Surgery. We focus on gaining a greater understanding of common joint injuries and treatment. We also work with local high schools to provide opportunities to see sports medicine in practice with both athletic trainers and physicians. Events outside of meetings include running the OSSM Soccer Tournament and attendance of both regional and national sports medicine conferences. Dues are $40 for all four years ($10 each year),
Leadership Positions
President: Runs the club. Organizes and conducts the meetings. Oversees community outreach and establishes connections to benefit the club. Oversees other role's responsibilities. In charge of communications to club members from the leadership council.
Vice President: Assists the president with all the above duties. Organizes volunteer and fundraiser activities. In charge of creating subcommittees the club sees fit. 
Secretary: Takes attendance at meetings. Creates meeting minutes of board meetings and member meetings and disburses minutes after meetings.
Treasurer: Handles finances. In charge of Food/Drink for meetings. Creates annual budget. 
Community Outreach: Contacts local doctors to set up shadowing days for club members. Finds and creates volunteer events in the local community. Sets up donation drives and other TOUCH point opportunities.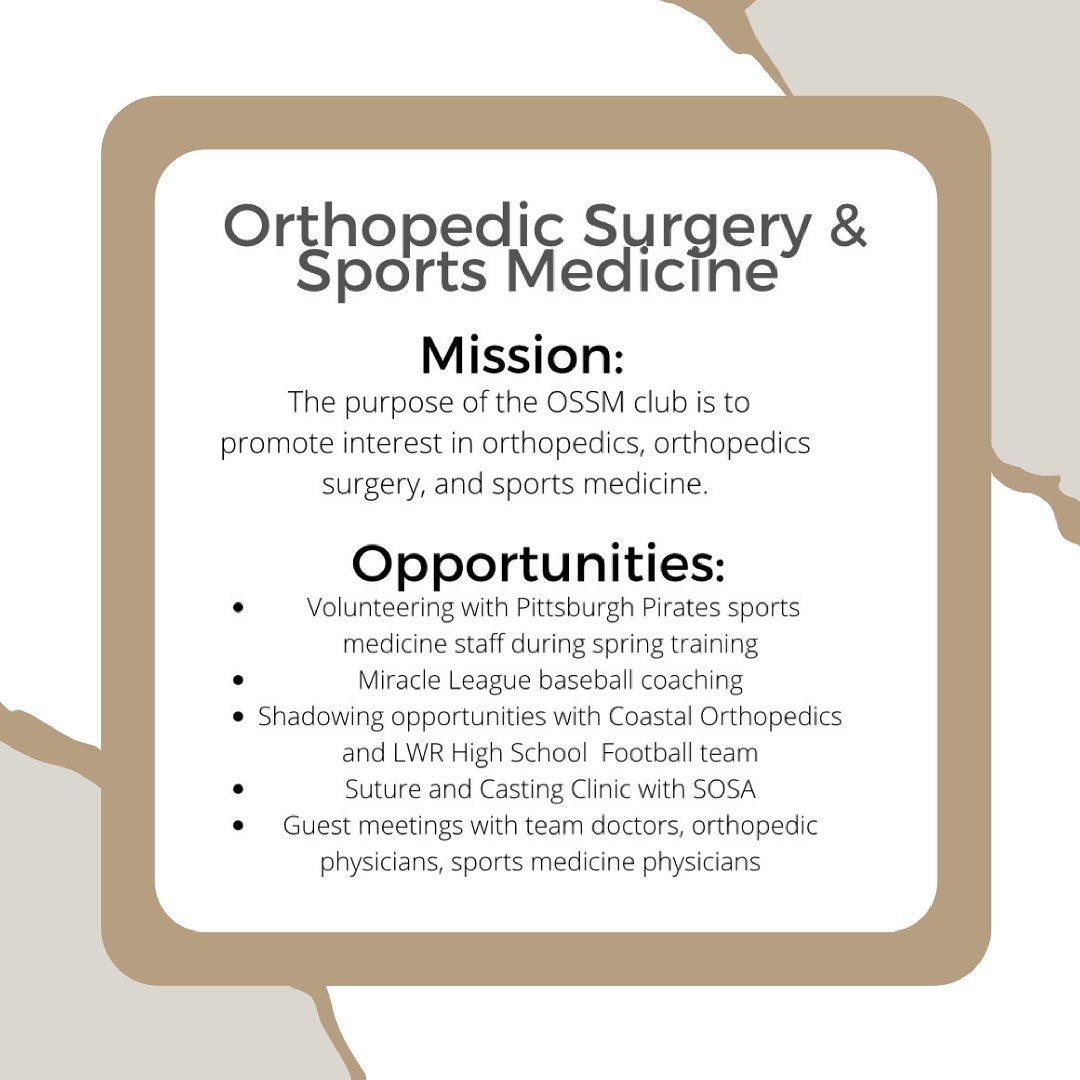 Class of 2026 officers:
President: Feross Habib
Vice President: Sean Cannon
Secretary: Zachary Buchman
Treasurer: Vinny Savarino
Community Outreach: Dirk Hoening
Class of 2025 officers:
President: Blake Delgadillo
Vice President: Tristan Hichkad
Secretary: Tristan Tinney
Treasurer: Luke Henwood
Community Outreach: Andrew Fessler
Class of 2024 officers:
President: Steven Fischer
Vice-President I: Katherine Breese
Vice-President II: Andrew Herson
Treasurer: Alexa Morrow
Secretary: Melissa Kirk
Class of 2023 officers:
President:  Austin Henken
Vice-President:  Matt Giansiracusa
Treasurer: Roi Medina
Secretary: John Souso