Integrative Medicine Club (IMC)
Club Description: Integrative medicine is healing-oriented medicine that takes account of the whole person (body, mind, and spirit), including all aspects of lifestyle. It emphasizes the doctor-patient relationship and makes use of all appropriate therapies: western medicine, eastern medicine, and lifestyle choices such as nutrition and exercise.
There are many ways to become involved with the integrative medicine club. Our members garden once a month at the Center Montessori School, helping the students tend to their organic garden and teaching them the importance of healthy eating. We host Clinicians from the area who are willing to give case based presentations as well as give advice on running an integrative practice in today's healthcare climate. And as a fundraiser throughout the year, the club hosts classes that will include Yoga, Pilates, and meditation this year.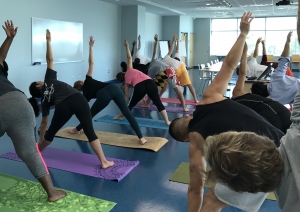 Class of 2024 officers:
President: Lindsay DeLiberto
Vice President: Danielle Chism
Treasurer: Mackenzie Elias
Secretary: Stephanie Pintos
Faculty Advisor: Dr. Oren Rosenthal
Dues are $10and can be paid to Mackenzie Elias (Venmo: @mackenzie-elias)